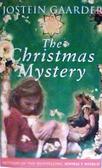 I'm delighted to read a book like this, about Jesus Christ's born, Saviour, and Christmas, especially in Christmas holiday. The Christmas Mystery is one of the best choice.
A boy found a home-made Advent calendar in a bookshop. When he opened the first door of the calendar, a thin sheet of paper was falling out, and which was writing on both sides. An extraordinary story started which was about a little girl who traveled back in time to Bethlehem and the birth of Christ. Sheep, angels, shepherds, kings of orient, the emperor, the governor, the innkeeper appeared and joined as the pilgrims. In the meanwhile, the boy found out about a flower seller who made the calendar, and about a girl who disappeared on Christmas Eve 40 years ago.
It's a beautiful and mystery story. I found some interesting wordings in the book too.
* Nothing is impossible for God.
* For peace is the message of Christmas.
* For the greatest joy on earth is generosity.
* The most important thing is to do something for people in need, for people who are ill and poor, and for people fleeing from their homes. That is the message of Christmas.
* Jesus wanted people to share the little they had. If only they could learn to share with each other, nobody would be hungry or poor, or very rich either. But it's better that nobody is poor and hungry than that a few people are rich.